Water Purification In Mooresville, NC
The quality of water in your home is vital for your family's health and your plumbing system. Your water may be full of contaminants, affecting the water you use to drink and bathe. If you notice an odd appearance, taste, or smell in your water, don't hesitate to call the experts at Lake Norman Plumbing. Our plumbers offer reliable and durable water filtration systems built to last.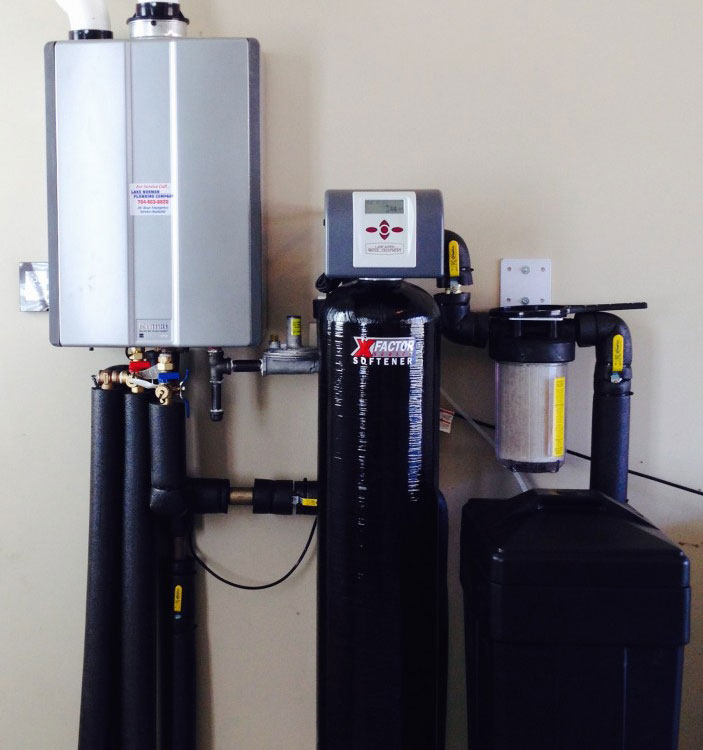 Benefits Of Water Purification Service
Unsure about investing in a whole house water filtration system? Investing in a water filtration system means investing in your home's health and your own. Water filtration provides clean and safe drinking water, improves water taste and quality, increases skin and hair health, and prolongs the lifetime of appliances by preventing mineral buildup.
Types of House Water Filtration Systems
Water treatment plants leave a lot of harmful chemicals behind. At Lake Norman Plumbing, we offer a variety of water purification systems that remove these additional compounds, including:
Water Softeners - A water softener improves water quality by filtering and removing unwanted minerals from your water.

Reverse Osmosis - Impurities will be removed from water by the reverse osmosis (RO) system, giving you bottle quality drinking water. RO is one of the most effective house water filtration systems.

Acid Neutralizer - An effective and economical way to correct the pH balance of your water.

Sediment Filtration System - An effective solution to clarify water, reduce sediment and turbidity.

Whole House Carbon Filters - Remove common chemicals found in your tap water, such as chlorine and chloramines.
Water Purification FAQs
What Does Maintenance Consist Of For A Whole House Filtration System?
Maintenance will vary depending on the type of water filter system you choose. Our team at Lake Norman Plumbing will walk you through what to expect when installing your water filtration system.
What Happens To Filtered Contaminants In Reverse Osmosis?
Impurities will be removed from water by the reverse osmosis (RO) system and flushed away down the drain. Unlike other traditional filtration systems, the RO membrane will clean itself. This allows Reverse osmosis membranes to last up to five years.