Tank & Tankless Water Heaters in Mooresville, NC
Explore Hot Water Heater Repair, Replacement, Installation Service, & More
A functioning water heater is one of the essential plumbing pieces in any home. Without your water heater, daily tasks such as bathing, cooking, and washing clothes would not be possible. Troubles with your water heater can really disrupt your life. Fortunately, our plumbers in Mooresville, NC are here to help!
At Lake Norman Plumbing, our team of plumbers provides quick and reliable installation and maintenance of water heaters with 30+ years of experience. Our professionals help you avoid inconveniences by offering quick phone support, guidance, and 24/7 emergency water heater replacement if needed. We always emphasize being honest, courteous, and respectful while working with you to solve any problems. Contact us now to get started and let us handle all your plumbing needs!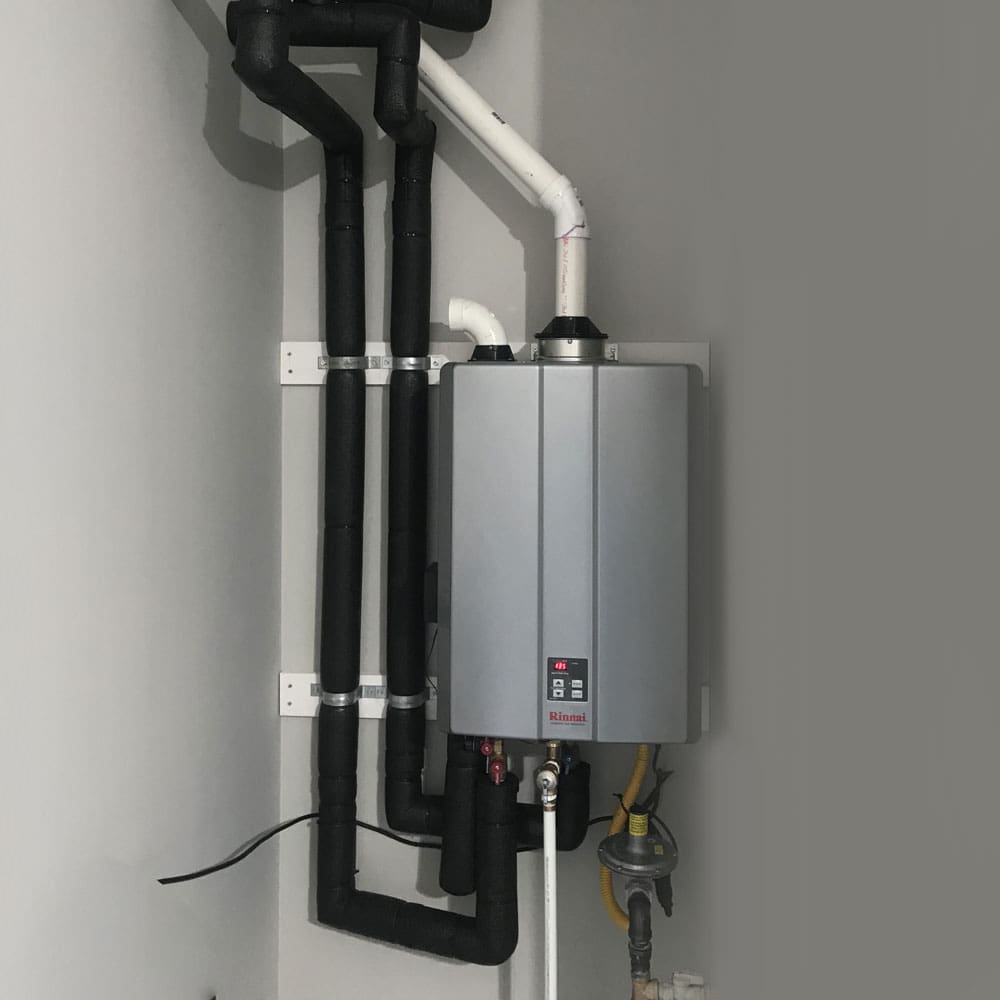 Tank & Tankless Water Heater Services
Troubles with your water heater can disrupt your daily life. Luckily, Lake Norman Plumbing is here to help.
Water Heater Repair
Our team of plumbers offers top-of-the-line water heater repair for issues such as leaks.
Water Heater Replacement
Our professionals will help you replace your water heater and select the right fit for your home.
Submit A Service Request
Contact us today to learn more about Lake Norman Plumbing water heater services!
Tank vs Tankless Water Heaters: Which One Is Right for You?
There are two main types of water heaters: tank and tankless. Each one has its own advantages and disadvantages, depending on your household's needs and preferences.
Tank Water Heaters
Tank water heaters store hot water in a large tank, usually ranging from 30 to 80 gallons. They use gas or electricity to heat the water and keep it at a constant temperature until you need it.
More common and cheaper to install than tankless water heaters
Take up more space than tankless water heaters
Have a limited supply of hot water and lose heat over time, which means you may run out of hot water during peak usage times or if you have a large household
Shorter lifespan than tankless water heaters (typically lasting 10 to 15 years)
Tankless Water Heaters
Tankless water heaters, also known as on-demand or instant water heaters, heat water only when you need it. They use gas or electricity to heat the water as it passes through a heat exchanger, delivering hot water in seconds.
More energy-efficient and environmentally friendly than tank water heaters, but also more expensive to purchase and install
Lower flow rate than tank water heaters
Require regular maintenance and cleaning to prevent mineral buildup and corrosion
Longer lifespan than tank water heaters (typically lasting 20 to 30 years)
Common Water Heater Repair Issues
No hot water
Not enough hot water
Leaking water heater
Rusty or smelly water
Noisy water heater
These common issues could be caused by a variety of factors, including sediment buildup, leaks, corrosion, a defective thermostat, or other faulty water heater components. Sediment buildup is the most common culprit affecting a water heater's functionality. As your water is heated up, minerals like calcium will collect around the tank and burner. These minerals create a sediment barrier if they are not filtered out correctly.
Attempting to repair your water heater yourself can be dangerous and may void your warranty. If you encounter any of these problems with your water heater, contact a professional Mooresville plumber to diagnose and fix the issue with all the services you need.
Is It Time for a Water Heater Replacement or Upgrade?
Water heaters aren't meant to last forever. Eventually, they will wear out and need to be replaced. Here are some signs that indicate your water heater is nearing the end of its lifespan:
Age: If your water heater is more than 10 years old for tank models or more than 20 years old for tankless models, it may be time to consider replacing it with a newer and more efficient model.
Frequent repairs: If your water heater requires frequent repairs or has recurring problems that affect its performance and reliability, it may be more cost-effective to replace it than to keep repairing it.
High energy bills: If your water heater consumes more energy than it used to or is less efficient than newer models on the market, it may be time to upgrade to a more energy-efficient model that can save you money on your utility bills.
Low capacity: If your water heater cannot meet your household's hot water demand or has a low flow rate that affects your comfort and convenience, it may be time to upgrade to a larger or more powerful model that can deliver enough hot water for your needs.
Ready to replace or upgrade your water heater? Consult with a professional plumber from Lake Norman Plumbing. We're happy to help you choose the best type and size of water heater for your house and install it properly.
The Prompt & Professional Hot Water Heater Repair Mooresville, NC Deserves
Family-owned and operated since 1995, Lake Norman Plumbing proudly serves homeowners and businesses in Mooresville, Huntersville, Cornelius, and beyond. We're your trusted partner for all your water heater needs. Our plumbers are licensed, insured, and highly trained with 30+ years of experience to ensure effectiveness and precision in their plumbing projects.
Quality Work
Quick Response
Fair Pricing
Free Estimates
Customer Satisfaction Guarantee
24/7 Emergency Water Heater Replacement!
If you need any plumbing service or water heater service in Lake Norman area, contact us online or by phone at (704) 663-8820. We look forward to serving you!